Moving on from the land of the koalas to the land of the kiwis.  We arrived in Christchurch at about midnight so the next morning we slept in a bit then went in search of breakfast.
I'd found a place online called Mona Vale which was a historic house set in a public park along the Avon River.  We had a nice breakfast and then spent quite a while exploring the gardens.  It was a lovely spring day, pretty warm actually.  Because it was spring in New Zealand, the flowers were on full display. 
And, as we'd encountered on our last visit here: everything in NZ seems to be a bit BIGGER than at home.  Last time we were blown away by the produce – the stalks of celery in the grocery stores were seriously intimidating.  This time we noticed it with the flowers.  
We have some peony bushes in our backyard in Colorado and they do pretty well with flowers a bit bigger than my fist.  But here… oh boy!  Same for the iris – I had Jason stand next to some – look how tall they are!  I'm guessing that's about 4 feet tall?!!  
There was a river running through the park as well as a pond covered in lily pads, what a lovely way to begin our NZ journey.
Springtime means lots of beautiful flowers but it also means lots of cute baby animals.  We found various groups of little ducklings and I dare you not to smile as you watch them swim through the lily pads in a neat little row :o)
After breakfast we headed to our first location - the Lake Tekapo area.  
Our vacation rental was one of our favorites from the trip.  It was a stand alone home with plenty of room to relax and a cast iron stove in the living room to ward off any chills.  It was on the edge of a
very
small village called Burke's Pass, surrounded by farmland.  We enjoyed watching the shaggy bull wander the fields around us and I spent quite a bit of time watching the ducklings on a small pond just below the house.
I had never seen ducks like this before - they're called Paradise Shelducks.  The ducklings are unbelievably adorable with their black and white coats.
Overall we had pretty good weather although one day we stayed in and took it easy as it rained off and on throughout the day.  We were both a bit relieved for the excuse to take a break from the go-go-go exploring that can often happen.   I was also excited that if you look closely at some of the duckling photos you can see little raindrops on their feathers :o)
Below is what the mama (white head) and papa (black head) ducks look like.
We had planned our trip so that the NZ visit was second because we were hoping to catch lupine season.  So we stopped into a tourist info center and asked if they were blooming yet and they said "not really."  And yet... as we started to explore we seemed to find them everywhere!
New Zealand has an amazing assortment of lakes with breathtakingly beautiful turquoise water surrounded by majestic mountain peaks.  We were hoping to get some photos of Lake Tekapo with the mountains and some lupine... um - check.
So I'd heard a lot about the lupine in our trip research but was surprised by the huge numbers of beautiful poppies in bright orange/yellow along the lake.  As well as some other flowers like this delicate violet.  Tekapo also has a famous little stone church that sits right on the lake so I asked a couple seagulls to pose on top of it for me and they were kind enough to oblige.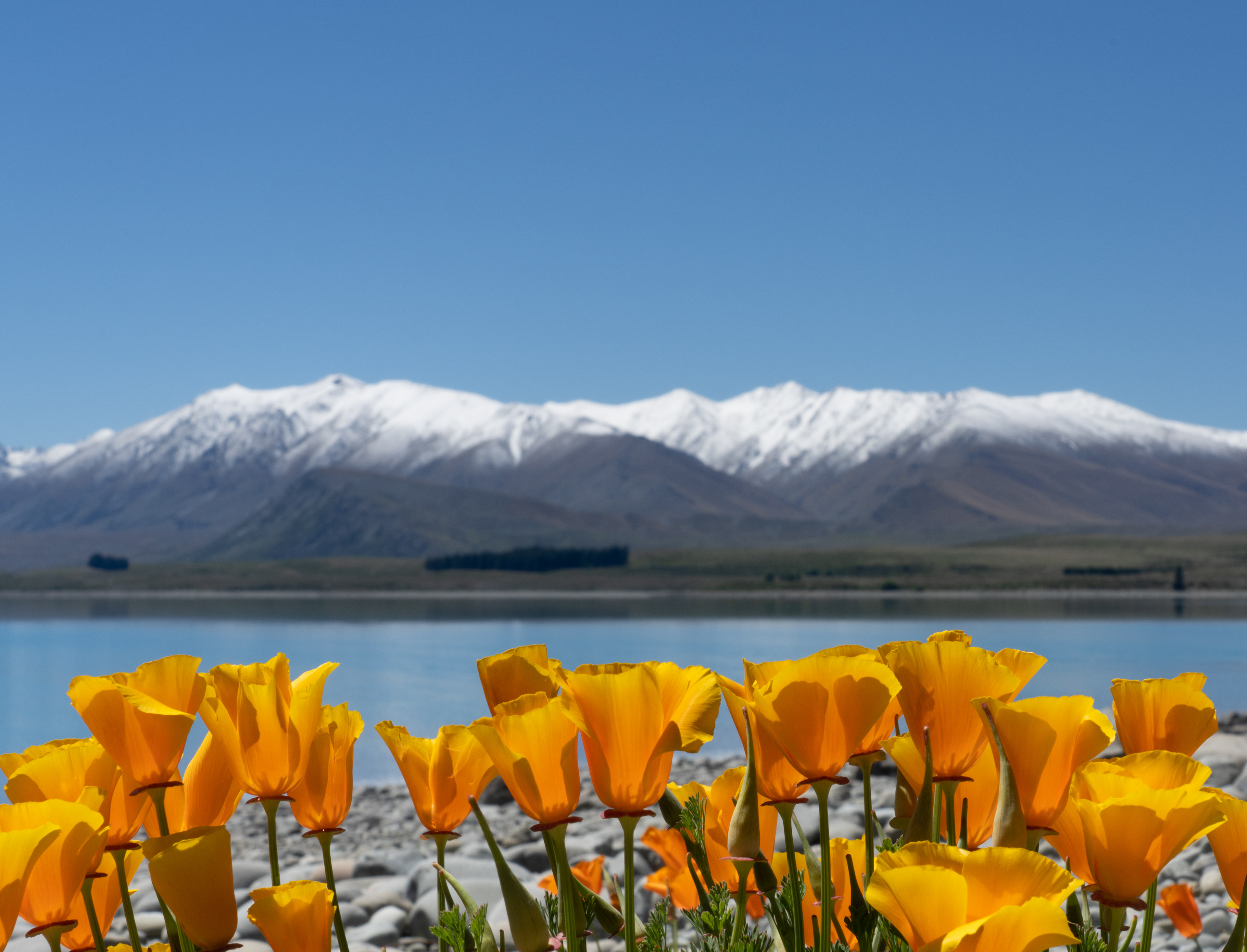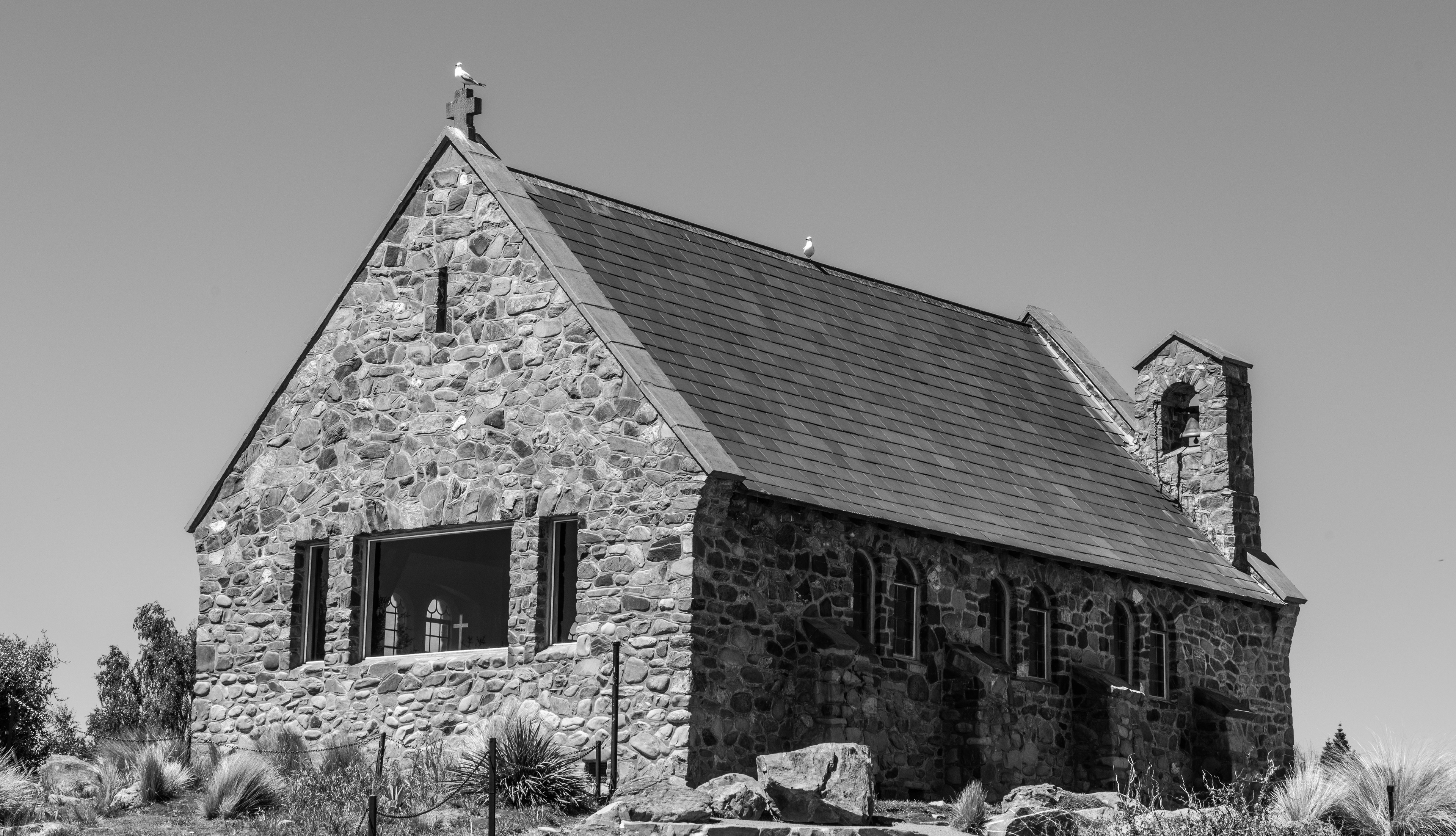 Fair warning - I became a wee bit addicted to lupine on this trip (more in later posts).  I've tried my best to whittle down the number of photos but I just fell in love with how many variations of color there are.  The purple and yellow below are a favorite combo (and also my college team's colors - Go Panthers!)
After Lake Tekapo we drove south toward our next stop, Wanaka.  Along the way we stopped at Mt Cook National Park.  Mt Cook is the tallest mountain in New Zealand and often easy to miss, because it likes to hide behind clouds.  We got very lucky with a gorgeous day and Mt Cook (far right below) on full display.  The wind was even still enough for some reflection photos!
Mt Cook sits behind another big blue lake - Lake Pukaki.
We had planned to do a hike in the national park, but we had such a blast taking photos along the way we didn't get to the trailhead until about 6 or 7pm.  The hike we were considering was fairly short - about 3 miles roundtrip.  But it involved some STEEP elevation gain.  The trail description says it has over 2,200 steps which is about 180 flights of stairs!!!  We were a bit leery of coming down that kind of terrain in the dark but decided to give it a go.  At the top we were rewarded by some lovely views and also a Kea, which is the only alpine parrot in the world.  
Luckily we made pretty good time on the trail and it stayed light for quite a while after sunset, so we didn't have to tackle the steps in the dark... because honestly that would have been terrifying.  It's hard to explain how steep some of the sections are.  Below you can see Jason near the top of one of the staircase sections and then down in the FAR lower left is the parking lots with all the little bitty cars!  
After the hike we spent the night in the nearby town of Twizel then headed down to Wanaka the next day.  Our vacation rental was just outside Wanaka, again in farmland and again we loved it.  So peaceful and quiet.  There were flowers blooming all around the house and the bees were lovin' it.
If I had to pick one word to describe our time in Wanaka it'd probably be waterfalls.  We took a few scenic drives and found lots of waterfalls which we had a blast photographing (me) and flying over (Jason).
I finally put good use to that heavy tripod I'd been lugging around and got some long exposure shots of the falls...
One of my favorite days of the trip was the day we drove the road to Mt Aspiring National Park.  We reached a point with a small stream crossing and a sign saying the road was recommended for 4x4 vehicles with multiple water crossings.  Our rental was a compact SUV so it had decent clearance, but wasn't 4wd.  We decided to go for it and figured we could turn around if things got hairy.  I'm so glad we did - after that sign the road was still easily passable and the water crossings were nice and shallow.  But the views were stupendous.  It seemed like everywhere you looked you'd spot another waterfall in the hills and mountains.  We stopped at a pullout along the road where there was a short trail to Wishbone Falls.
I loved this waterfall - the striations in the rocks behind the water were really cool looking.  It was fairly windy so the stream of water would shift from left to right cascading over different rocks as it tumbled down.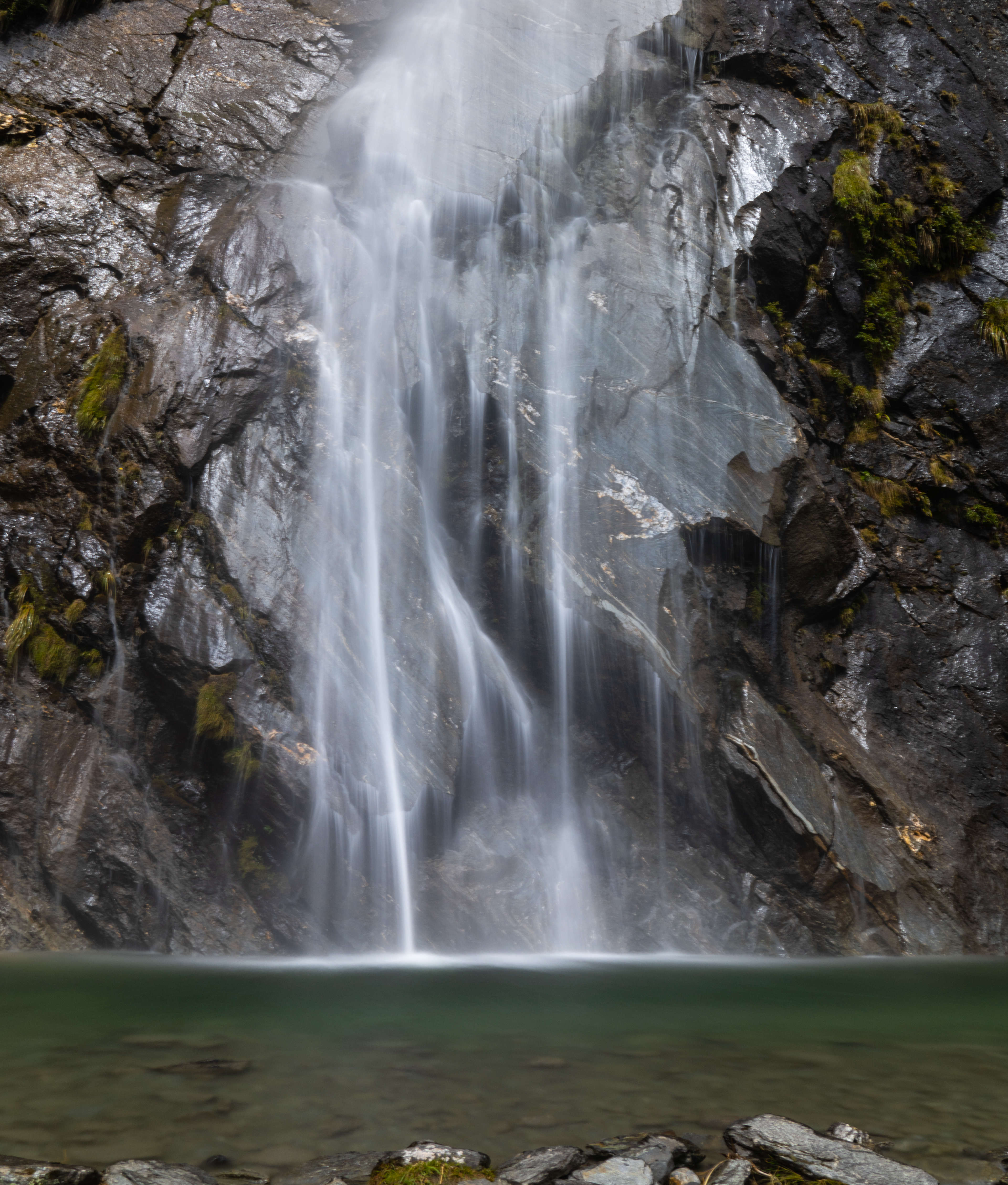 I also loved that I got to walk through fields to get there and saw lots of super cute lambs!
Besides the waterfalls, one of the other great memories from the Wanaka area came from a stroll we took along Lake Hawea (because
of
course
Wanaka sat on a big blue lake surrounded by mountains, actually it had 2 lakes: Lake Wanaka and Lake Hawea)  We found this rope swing nearby with a heart carved in the seat.
Sometimes it's the simplest pleasures that make a lasting memory. :o)
As always, thanks for reading!!